How To Update DD214 After Discharge
All veterans receive the DD214 form once they exit any Armed Forces branch, such as the Air Force, Army, Coast Guard, Navy, and Marine Corps. Formally referred to as Department of Defense Form 214, it serves as the official form for military records. It is proof that you were in military service and contains pertinent information about your military career.
Your DD214 form is vital to claim VA benefits. Hence, you should ensure all information is correct and updated. Inaccurate information in your DD214 can lead to a delay or denial of benefits. You may also need your DD214 for employment and membership in a veterans service organization.
Understanding The Need For DD214 Updates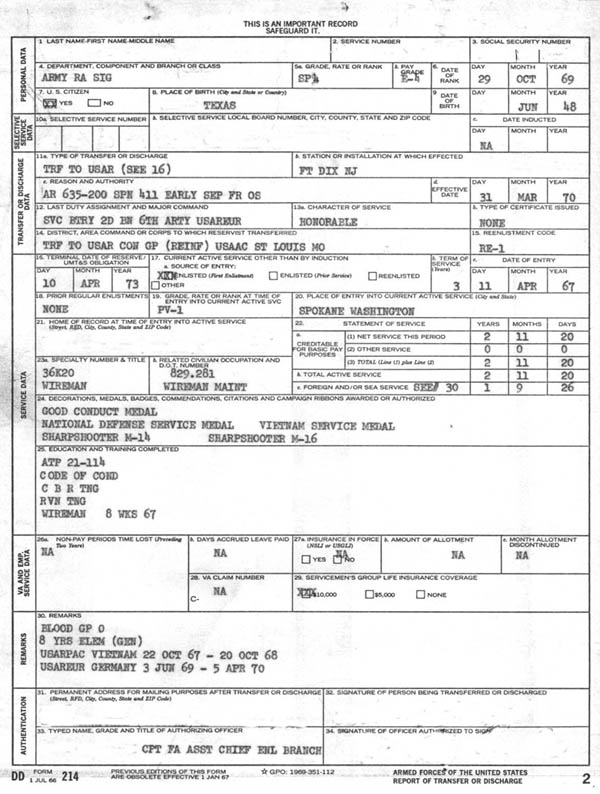 You might need to update your military record for various reasons. Your military records should also reflect the appropriate address if you moved houses after separating from the military. All personal information contained in the DD214 must be updated.
The correction of military records might be needed if there are errors in your DD214. If the form contains spelling errors or lacks military accolades you received throughout the years, you should update your DD214. Even the slightest mistake can impact your benefits. Thus, everything must be correct if necessary.
If you underwent special military training that might be relevant to a job opportunity, you should ensure that it's included in your military records. There are instances wherein one's service information might not be correct. As soon as you spot these inaccuracies, you should update your DD214.
If you need to correct information in your military records, you must submit a written request to the personnel command of your respective service branch. If you served in the Air Force, direct your request to their respective office. If you were in the Army, you must forward your request to the Army Review Board Agency.
How To Update DD214 After Discharge: 5 Steps
You can update your military records by following five easy steps.
Gathering Required Documentation
You need supporting documents to process your request. These documents should contain the correct information you want to reflect in your DD214. Some examples of papers the military accepts are your birth certificate, divorce decree, court order, and social security card. You should provide as much evidence as possible to ensure the necessity of your request.
If applicable, your request should include signed statements of individuals or a brief of arguments that support the need for the correction of military records. You are responsible for ensuring that the discharge review board understands why the change is necessary.
Contacting The National Personnel Records Center (NPRC)
The National Personnel Records Center is entrusted with the task of storing the military records of veterans who have received a complete discharge, retired from service, or passed away. Members of the Air Force, Army, Coast Guard, Navy, and Marine Corps can access their military records within this repository.
If you need to correct your military records, you should contact the NPRC. You can find various ways to do this. You can submit a request through online applications, mail, or fax. You can also contact your local VA regional office, visit the NPRC in person, or hire an independent researcher.
The NPRC accepts online applications via the milConnect website. If you like writing a personal letter, you can send your request to the NPRC office in St. Louis. Refer to the following address:
National Personnel Records Center
1 Archives Drive
St. Louis, MO 63138
If you prefer sending your request via fax, you can submit the relevant documents to 314-801-9195. The NPRC office is at the same address above if you want to visit instead. Every state and county has its own veterans agency, so you should look for the one in your vicinity if needed.
Preparing The DD214 Update Request
The Standard Form-180 or SF-180 is a requirement if you want to undergo the correction of military records. You can download the SF-180 application forms through this link. Before you fill up the SF-180, you should read the instruction and information sheet on the first page.
The first section of the SF-180 will require you to detail your name used during service, social security number, place, and date of birth. You must also include the details of your time in service, such as the military branch where you served, entry date, and release date. You should indicate if you served as an Active Duty, Reserve, or National Guard member. Then, you must write the last four duty stations, whether you're deceased or not, and if you retired from service.
The second section pertains to the documents or information you're requesting for. In this case, you should specify that you are submitting the DD-214 to claim VA benefits. The last area is about your return address and signature.
The final page of the SF-180 contains the contact information of the service review boards you should send your application, such as the Naval Discharge Review Board.
You should consider adding all optional information to support your case when preparing your update request. Examples include an honorable discharge or honorable service and a positive post-service history. If you provide more information, you can increase your chances of successfully updating your military service records.
Submitting The DD214 Update Request
Once you've filled up the form and prepared all the relevant supporting documents, you should submit your request to your chosen medium. As mentioned, you can send it online, via mail, fax, or in person.
Receiving an update about your request might take a couple of weeks or months. Faxing or sending your request via mail doesn't mean you can get your forms earlier. Many factors may impact how fast you receive your DD214. These include the current volume of requests, workload, and whether your request is within the country or from overseas.
Following Up On the Request
Processing your request might take as fast as ten days. However, you shouldn't be surprised if it takes a couple of weeks. But what should you do if you haven't received any updates for months?
You can use different methods to check the status of your correction request. If you know your request number, you can find your request status through this link. You can still see your request status if you don't know your service request number. However, you must provide more information through this link.
Alternatively, you may contact the NPRC office through the NPRC Customer Service Hotline for updates. Please take note that this number may be long-distance for most callers. Their number is 314-801-0800. Staff is available to entertain calls from 7 in the morning to 5 in the afternoon (CST). Peak call times are between 10 in the morning to 3 in the afternoon, so you should take note.
Alternative Methods For Updating DD214
The NPRC isn't the only authority that provides an updated military record. You can reach out to the appropriate military branch for assistance in the correction of military records. You can also contact the nearest military base connected with the army unit you served in to process your request.
Moreover, you may explore working with a Veterans Service Organization to update your military records. These organizations can contact the appropriate address so they can correct your records.
Thanks to technology, connecting with people who can help you with your request is easier. Various veteran support groups on social media might also be able to assist you in updating your service records.
Conclusion
Considering how vital your military records are in obtaining your benefits as a veteran, you should ensure all information in your DD-214 is updated. Otherwise, you might encounter some problems.
If you spot any errors in your form, you should correct them as soon as you can. Fortunately, the service review boards are always ready to assist veterans like you with the correction of military records.
To learn more about military benefits, explore the Military Verification website further. We have plenty of useful information you can learn from today.
FAQs
How long does it take to upgrade DD-214?
If your request pertains to a discharge upgrade, your request can take up to a year. You should provide as much evidence as you can to support your request for a discharge status.
It depends on the military unit where you served in. You would have a strong case for a discharge upgrade if your discharge were connected to mental health conditions. These include post-traumatic stress disorder or traumatic brain injury.
How long do you have to upgrade your military discharge?
You must submit your application for a discharge upgrade within a period of 15 years following your discharge date. No exceptions are made to this time limit.