How To Get A DD214 For A Deceased Relative: Ultimate Guide
A DD Form 214 is proof of military service issued by the United States Department of Defense to a military member after separation. Obtaining a copy of a DD 214 is vital if you want to access the various benefits and services available to military personnel. But what if your family member passed away? Is it still possible to obtain a DD 214 form? The short answer is yes.
However, you must present the necessary documents and submit a request to the proper offices. This guide will provide complete information on how to get a DD 214 for a deceased relative.
What Is A DD 214?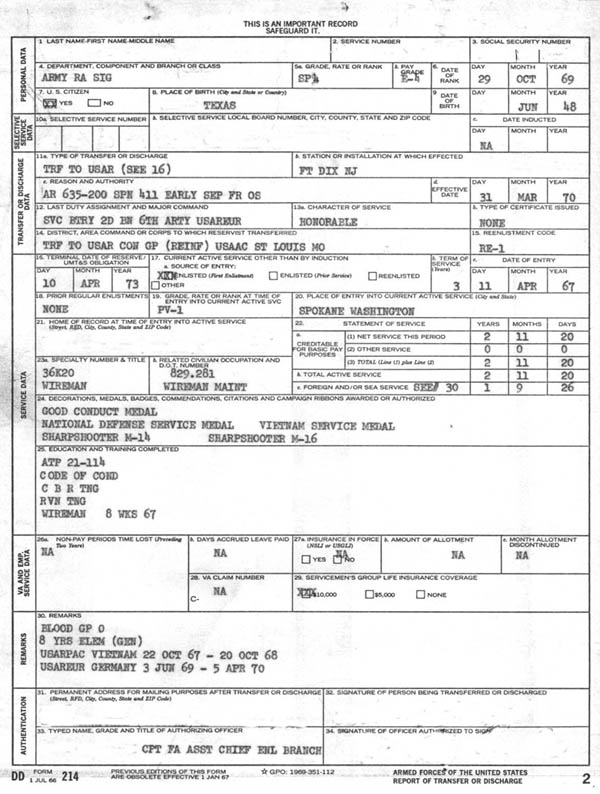 A DD 214 form is an official document that gives a comprehensive and precise overview of a veteran's active military service. This form details a service member's dates of service, any medals or commendations received, and the reason for separation and discharge.
DD 214 is essential for veterans because it proves their military records. An official military personnel file is vital to access all the benefits granted to veterans. Surviving spouses and relatives of deceased veterans can also enjoy these privileges. However, they need proof that they are qualified to receive these perks.
Who Can Make A Request?
The next of kin of the deceased veteran is eligible to get a veteran's DD214 form. The following individuals can send a request pertaining to military records.
Surviving spouse
Son
Father
Daughter
Mother
Brother
Sister
If a next of kin is requesting military service records, they need to provide proof that the service member is deceased. This can be in the form of a death certificate, a published obituary, or a request letter from a funeral home.
Third-party individuals, such as lawyers and doctors, may request an individual's service records. However, they must present a signed and dated authorization from the veteran's next of kin if the discharge happened in less than 62 years.
The general public can also request a copy of military personnel records if the discharge happened 62 years ago. Anyone can access the DD214 form for a copying fee of $25 to $70, depending on the number of pages.
How To Get A DD214 For A Deceased Relative
If you are the next of kin of a deceased service member, you can request military records online or ask for a hard copy if needed. To retrieve a veteran's military records, you must submit the following information:
The veteran's full name including middle name
Veteran service number or social security number (SSN)
Branch of service where they served
Dates of service
Birth date and place
If you prefer to receive mail, you can request military records from the National Archives through this link. You should ensure that you send the application to the proper location.
To apply online, you can submit a request to the National Archives. Click the 'Start Request Online' option and answer the questions accordingly. Once accomplished, you should print, sign, and mail the signature page to the address on the form. You can also fax the document to 314 801-9195.
After sending a request for a deceased relative's military service records, you will receive an email confirming your application. Expect another email notification once the documents are ready for viewing and downloading. You can obtain military personnel records for free if the discharge date was less than 62 years ago.
The next of kin can also send a request pertaining to military records to Servicemembers Civil Relief Act Centralized Verification Service. This easy-to-use online resource allows you to verify the military status of a veteran in as little as 24 hours. It offers a quicker alternative compared to the process of obtaining it from the National Archives.
How Long Does It Take To Get The DD214 Form?
The time it takes to obtain the military service records depends on how you submit the request form. Veterans Affairs may be able to access their records online if the veteran was discharged recently.
Unfortunately, it may take months to obtain the documents. And although tempting, following up on military records is highly discouraged until the request is submitted after three months. In fact, sending a notice before 90 days may cause further delays.
However, under special circumstances like burial, the National Archives can expedite the delivery of a DD214 form. You can get the veteran form within one to five days.
Call National Cemetery Scheduling Office at 800-535-1117 if you want to bury your deceased relative at the Department of Veterans Affairs National Cemetery. You can also visit the National Cemetery Administration website for more information.
Other Ways To Get My Military Records
If you immediately need the military records of a deceased relative, you can explore other ways to obtain their records. Various online databases and resources may have limited information available online. You can also seek help from professional researchers if you can.
If you can't request military records online, you may contact the following options:
National Personnel Records Center
Department of Defense
Federal Information Centers
Local Veterans Affairs office
A veteran's service organization
Conclusion
Obtaining the military records of a deceased relative is possible as long as you have all the required information. Processing this request may take time unless you need it under certain circumstances. This is why you should take care of your military service records. If you need further assistance, you may contact Military Verification.
FAQs
Where can I find my DD214?
The National Personnel Records Center contains military records of veterans. You may obtain this online, through mail, or by fax.
Can I get my DD214 from my local VA office?
Yes, as long as you have the required information and documents, you can get your DD214 from your local VA office. Alternatively, you can send a request to the National Personnel Records Center (NPRC).
Do I get my DD214 on terminal leave?
The original DD214 is given to the service member upon release, retirement, or discharge. You need to return to your station to get the documents.
Does DD214 show combat?
A DD214 form may provide proof that you experienced combat by listing accolades or medals. However, the form doesn't explicitly say if you're a combat veteran.